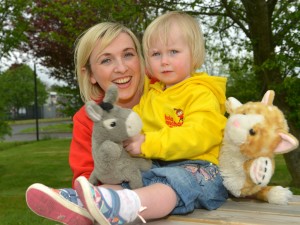 ROLE: Founder & Teacher
QUALIFICATIONS: Post Graduate Certificate in Primary Teaching, Modern Language Specialist
EXPERIENCE: 15 years teaching a wide range of ages & learning needs
My daughters Maisie (8) and Lucia (4) have been listening to & enjoying Spanish  since they were born. Both girls pick up new vocabulary easily & their enthusiasm for languages is shining through, even at such a young age. They often chose to use their Spanish during playtime at home. I am proud to be able to introduce exciting, fun & interactive Spanish lessons to you & your family in Northern Ireland.
As a specialist language school, we provide creative, stimulating, play-based lessons so our linguists learn without even realising. We are enthusiastic & passionate about children's languages and our lessons reflect this. Exposure to a second language as a young child offers endless benefits to the overall development and well-being of a child; increased confidence & self-esteem, quicker acquisition of their own language to name but a few.
I look forward to meeting you in class!
Lynn x